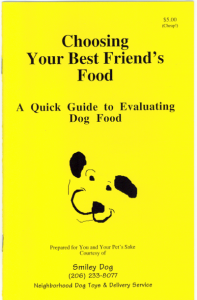 It all began with a small, 12 page booklet in 1994. If you have one, hang on to it. It's a collector's item.
That small pamphlet, Choosing Your Best Friend's Food, was an attempt to share vital information with per parents. In its way, it covered some good ground, but there it was merely an information dump. There was no system which made that information easy to retain or apply.
Fast forward 20 years, tons or food sales and thousands of questions from pet lovers. Foods have come and go, marketing continues to manipulate, and a shift towards feeding healthier pet foods is taking hold.
At the urging of clients, colleagues and friends, The Dog Food Detective System was born and can now be shared. Use it in good health!